Sunvision Canopy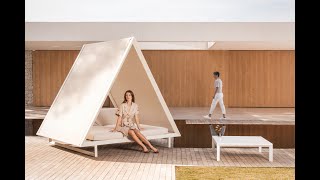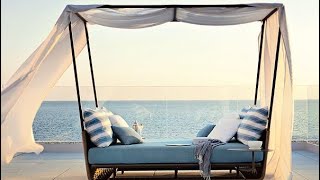 Vineyard Daybed
The pure and simple lines of it's pyramidal shape makes the Vineyard an ideal setting to rest, converse, meditate, sleep or simply relax.

The mattress has dual, independently adjustable back supports. The aluminum frame holds a fine mesh PVC fabric called Sunvision® or Cordon woven rope to soften the sunlight.

Sunvision is resistant to stretching, cracking and fading, very quick drying and resistant to staining. Cordon is a polypropylene cord that is completely weather resistant.

The frame, roof fabric and rope are available in white, grey, taupe or ecru color finishes.

The daybed cushion fabric is made of polyester outdoor fabric. Cushion fabric is available in several fabric colors. Please inquire and we will assist you with the options and provide swatches if needed. All are resistant to UV and all weather conditions.

23'' x 23'' throw pillows are available in sets of four. Also available in many color choices.

You will receive this item by truck delivery. The trucking company will call and schedule a time when someone will be present to accept the delivery. They will deliver the item curbside and you will be responsible for moving it into your home.
Product ID# 278378
Frame: 92.5H x 96W x 88D
Mattress: 82L x 71W. 17H
Estimated Ship Time:
8 weeks
Vineyard - White Frame/White Floor/White Sunvision - $16,695.00
Vineyard - Gray Frame/White Floor/Gray Sunvision - $16,695.00
Vineyard - Ecru Frame/Ecru Floor/Ecru Sunvision - $16,695.00
Vineyard - Taupe Frame/Ecru Floor/Taupe Sunvision - $16,695.00
Vineyard - White Frame/White Floor/White Cordon - $28,295.00
Vineyard - Gray Frame/White Floor/Gray Cordon - $28,295.00
Vineyard - Ecru Frame/Ecru Floor/Ecru Cordon - $28,295.00
Vineyard - Taupe Frame/Ecru Floor/Taupe Cordon - $28,295.00
Set of Four Pillows - $850.00
×

Secure Site
Tested: December-05-2023