Dots and Dash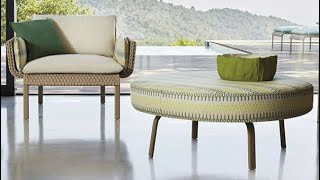 Versatile Dots and Dashes can be a Bench, Table or Ottoman
The sleek, modern design of the patented Dots and Dashes pieces allows them to function as an ottoman, side table, stool or bench or even room dividers.

The modular chair design allows you to use them singly or to form a sofa of any length by merely putting them side by side.

They are great for adults and kids for indoor or outdoor use.

The interior of the Dots and Dashes pieces is made of polymeric structural foam and layers of cushioning foam that are covered in a waterproof membrane made of marine grade vinyl.

The vinyl has a slightly textured surface that gives it the appearance of real leather. Its firm appearance belies the soft cushiony comfort you experience when you sit down.

It is stain, fungal and mildew resistant and cleans easily with soap and water. The outer cover is removable and easily replaceable with a new cover as it ages or if it is ever damaged.

The Dot is 18'' in diameter, the Dot² is 18'' square and the Dash is 48'' long x 18'' wide.

Materials used in construction are 95% recyclable.
Product ID# 193006

Dot Round: 18'' Diameter x 18'' High. 5 lbs.
Dot Square: 18'' x 18'' x 18''. 6 lbs.
Dash: 48'' L x 18'' D x 18'' High. 17 lbs.
Estimated Ship Time:
2-3 weeks
×

Secure Site
Tested: December-04-2023