Supremo Umbrella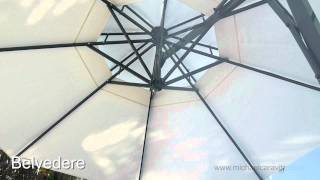 Umbrella Opens with One Hand
The Caravita® Supremo's unique Easy-Lift-Balance-System provides an especially easy and sophisticated way to open even the largest shades. With the push of the bottom, the shade is released and begins to unfold. With very minimal effort the Supremo handle is raised to completely open.

The smart telescopic mechanism elongates the mast while closing the Supremo having it close above table or seating groups. Additionally double supported struts are reinforced on larger shades and massive aluminum hubs in frame color provide high stability even with large canopy dimensions and high stress environments.

The canopy is made with a premium grade outdoor acrylic fabric that is waterproof, stain and UV resistant and so durably constructed it is intended for both residential and commercial applications.

The fabric will reflect over 90% of the suns UV rays and has a unique "Cleanguard" application that makes it completely water repellent and resistant to dirt and grease stains. It is also extremely resistant to color fading a will maintain its original bright color for many years.

The octagon shaped market style canopy has a wind hood which provides the most protection in light to moderate wind conditions.

The canopy is available in several fabric color choices.

Supremo Umbrella Base Choices
Floor Base with Patio Pavers. The steel umbrella base is 40'' x 40'' and requires you to add eight,16'' x 16'' x 2'' concrete pavers for support. Select white or charcoal powder coated finish. Many other finish colors are available. Please inquire.

You will receive this item by truck delivery. The trucking company will call and schedule a time when someone will be present to accept the delivery. They will deliver the item curbside and you will be responsible for moving it into your home.
Product ID# 230045

11'6''
13'2''
14'10''
16'5''
Estimated Ship Time:
6-8 weeks
11'6'' with White Frame - $3,095.00
13'2'' with White Frame - $3,295.00
14'10'' with White Frame - $3,495.00
16'5'' with White Frame - $4,195.00
11'6'' with Charcoal Frame - $3,095.00
13'2'' with Charcoal Frame - $3,295.00
14'10'' with Charcoal Frame - $3,495.00
16'5'' with Charcoal Frame - $4,195.00
Paver Base - White - $795.00
Paver Base - Charcoal - $795.00
×

Secure Site
Tested: December-08-2022