White Moonlight ''Courtesy, Moonlight USA, Inc.''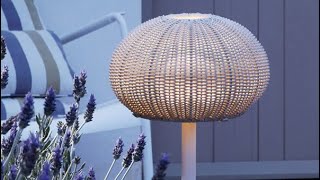 Moonlight Outdoor Patio and Garden Lights
Free-standing, indoors-outdoors, permanent or portable mounting options and changeable colors are just few of the many options the patented and award winning Moonlight brings to your outdoor room, patio, pool or landscape.

The Moonlight globes come in four diameter sizes 9.85'', 13.75'', 21.65'' and 29.50'' with a flattened bottom so they sit squarely on any flat surface. They are made of nearly unbreakable polyethylene that is waterproof, UV resistant and withstands both extreme summer heat and snow and below zero temperatures. LED bulbs.

They are available with a permanent base that screws or bolts to any hard surface that you direct wire or a portable version that comes with a 16' electrical cord.

All lights come in the classic white globe color or a faux stone finish in light or dark granite shades or terra cotta. The options for Moonlight are virtually endless please call us with any questions or requests.


Product ID# 194001

9.85''
13.75''
21.65''
29.50''
Estimated Ship Time:
5-6 weeks
Portable Moonlight - White
Portable Moonlight - Lt. Granite
Portable Moonlight - Dk. Granite
Portable Moonlight - Sandstone
Permanent Base Moonlight - White
Permanent Base Moonlight - Lt. Granite
Permanent Base Moonlight - Dk. Granite
Permanent Base Moonlight - Sandstone
×

Secure Site
Tested: December-04-2023