White Moonlight ''Courtesy,Moonlight USA,Inc.''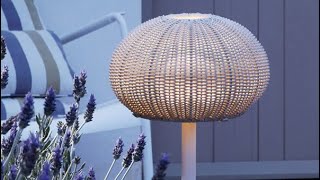 Moonlight Floating Outdoor Patio Light
The patented and award winning floating Moonlight is perfect for swimming pools or gazing ponds.

They are made of nearly unbreakable polyethylene that is waterproof, UV resistant and withstands both extreme summer heat and snow and below zero temperatures.

Select from; 9.85'', 13.75'', 21.65'' and 29.50'' diameters. LED bulbs.

The lights are available with either 32' or 65' electrical cords and a 16' container rope.

A smart phone app allows you to turn the light on and control the light intensity. The options for Moonlight are virtually endless please call us with any questions or requests.
Product ID# 194005

9.85''
13.75''
21.65''
29.50''
Estimated Ship Time:
3-5 days
Floating Moonlight - White - 32' Cord
Floating Moonlight - White - 65' Cord
×

Secure Site
Tested: December-04-2023