Three Awnings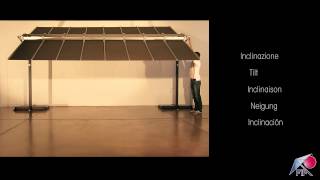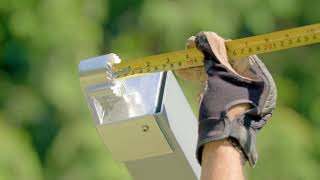 Italian Garden Awning
This beautifully designed Italian awning or canopy can be tilted up or down to block the sun at almost any angle.

When blocking the low sun the canopy can be position in a straight up and down vertical position.

The canopy easily slides horizontally to the side to open or close by using a crank handle. It can also be easily removed for winter storage.

The canopy fabric is made with a Sunbrella® outdoor acrylic fabric which is extremely resistant to moisture and colorfast against sunlight.

The aluminum frame has a silver powder coated finish and is available with a free-standing base, in-ground base or a deck or concrete mounting base.

Deck/Concrete Mount Base.
16'' diameter cast aluminum plate can be mounted to any wood surface that is 2'' or more inches thick and any concrete surface.

In Ground Base.
Allows you to position the awning on any ground or lawn surface. Requires a 12'' x 24'' deep hole filled with concrete.

Free Standing Base.
Each leg base frame is 26'' x 50'' x 6'' high and requires 8, 24'' x 24'' patio pavers with a total weight of 440 lbs. Planters filled with concrete can also be used to achieve the necessary weight.

Five year warranty for residential use and one year warranty for commercial use.
Product ID# 901028
×

Secure Site
Tested: March-26-2023