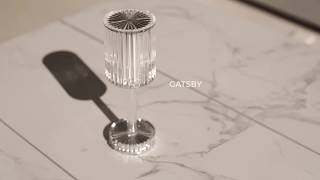 Gatsby Rechargeable Square Lamp
The Art Deco design of the Gatsby outdoor table lamp serves as an iconic sculpture even when not lighted.

The rechargeable light has a three position birghtness setting and will burn for approximately 12 hours on a single charge, depending upon the brightness setting.

The Gatsby frame is constructed of plastic resin and is available in either transparent ice color, gray or amber.

With the transparent ice fixture you can select the LED light color to be red, blue, green or white.

The gray or amber lamps will only be those colors with lit.
Product ID# 278370
9.5''H with a 3'' x 3'' base.
Estimated Ship Time:
1-2 weeks
Square Fixture. Ice color. White Light Only. - $330.00
Square Fixture. Ice color. Red,Blue, Green, White Light. - $350.00
Square Fixture. Amber. - $330.00
Square Fixture. Gray. - $330.00
×

Secure Site
Tested: May-19-2022