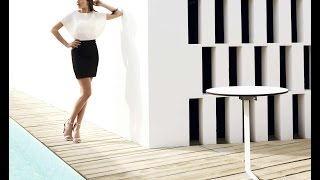 Delta Bistro Table
The Delta table has a HPL or glass top with either fixed or collapsible table tops in different heights.

The HPL tops are available in black and white.

The table bases are made of cast aluminum with a white powder coated finish.

You will receive this item by truck delivery. The trucking company will call and schedule a time when someone will be present to accept the delivery. They will deliver the item curbside and you will be responsible for moving it into your home.
Product ID# 278246

Table Base:
29''H
41''H
Top:
23.5''Dia.
27.5''Dia.
23.5'' x 23.5''
Estimated Ship Time:
8 weeks
Fixed HPL Top. 29''H. 23.5'' Diameter - $575.00
Fixed HPL Top. 29''H. 23.5'' x 23.5'' Sq. - $575.00
Folding HPL Top. 41''H. 19'' Dia. - $595.00
Fixed HPL Top. 41''H. 19'' Dia. - $550.00
Folding HPL Top. 29''H. 23.5'' Dia. - $625.00
Folding HPL Top. 29''H. 23.5'' x 23.5'' Sq. - $650.00
Folding HPL Top. 41''H. 19'' x 19'' Sq. - $595.00
Fixed Glass Top. 41''H. 19'' x 19'' Sq. - $695.00
Fixed Glass Top. 41''H. 19'' Dia. - $695.00
Fixed Glass Top. 29''H. 23.5'' Dia. - $695.00
Fixed Glass Top. 29''H. 23.5'' x 23.5'' Sq. - $725.00
×

Secure Site
Tested: November-29-2022