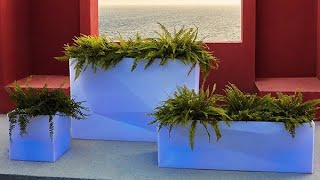 Cubotti Indoor-Outdoor Lighted Planter
The Serralunga Cubotti lighted planter will rotate through several different colors or can be commanded to show only one color or to display white only.

The Cubotti comes with a 9W bulb, remote control and a 10' long electrical cord

The LED can be set to continuously rotate through eight different colors; white, yellow, red, pink, purple, orange, green and blue. Or you can select it to display only one color or white light only.

When not in use the Cubotti will be white in color.

The inside of the planter has a molded basin for planting that is not removable. An interior hose for drainage exits at the bottom of the planter.

It is rotational molded of a high quality polyethylene resin that is very weather resistant in all climates and has a smooth finish. This is a commercial grade product that is almost break-proof when knocked.

The Cubotti comes with a 2 year manufacturer's warranty. Manufactured in Italy.
Product ID# 272022

20'' x 20'' x 18'' H. Planting Basin: 16''Dia. x 8''D
29'' x 29'' x 25''H. Planting Basin: 22''Dia. x 14.5''D
15'' x 15'' x 36''H. Planting Basin: 12''Dia. x 13.5''D.
Estimated Ship Time:
8 weeks
×

Secure Site
Tested: December-04-2023