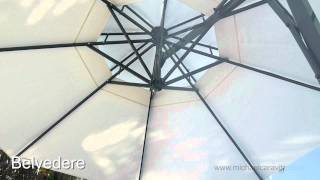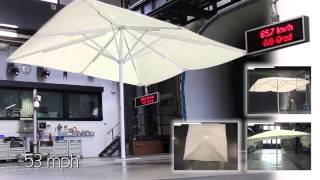 Big Ben Market Umbrella with Wind Roof
The Caravita® Big Ben is the ultimate solution for commercial use. The aluminum frame includes a center mast diameter of 3" and double layer power struts providing extra stability.

Unique one of kind massive aluminum hub is the nucleus of this shade.

Don't be fooled, Big Ben is robust in nature but offers easy handling with a simple and easy to use crank handle with an internal spindle lift system. As the umbrella closes the pole extends upward so that the canopy does not sweep the table or seated guests.

The fabric will reflect over 90% of the suns UV rays and has a unique "Cleanguard" application that makes it completely water repellent and resistant to dirt and grease stains. It is also extremely resistant to color fading a will maintain its original bright color for many years.

The round market style canopy has a wind roof which provides the most protection in windy conditions.

The canopy is available in several fabric color choices.

LED lights that attach to the umbrella struts are also available. Please inquire.

The steel umbrella base is 40'' x 40'' and requires you to add 8, 16'' x 16'' x 2'' concrete pavers (not included).

You will receive this item by truck delivery. The trucking company will call and schedule a time when someone will be present to accept the delivery. They will deliver the item curbside and you will be responsible for moving it into your home.
Product ID# 230042

11'6''
13'2''
14'10''
16'5''
18'
19'9''
Estimated Ship Time:
6-8 weeks
11'6'' with White Frame - $5,595.00
13'2'' with White Frame - $5,895.00
14'10'' with White Frame - $6,195.00
16'5'' with White Frame - $6,395.00
18' with White Frame - $6,695.00
19'9'' with White Frame - $6,995.00
11'6'' with Charcoal Frame - $5,595.00
13'2'' with Charcoal Frame - $5,895.00
14'10'' with Charcoal Frame - $6,195.00
16'5'' with Charcoal Frame - $6,395.00
18' with Charcoal Frame - $6,695.00
19'9'' with Charcoal Frame - $6,995.00
Umbrella Stand - White - $795.00
Umbrella Stand - Charcoal - $795.00
×

Secure Site
Tested: December-09-2022