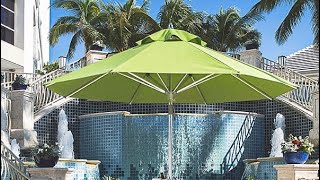 Belvedere Round Market Umbrella
The Caravita® Belvedere is one of the quickest opening cantilevers with its unique lever handle. The Belvedere mast remains off set providing plenty of shade coverage and when closed retreats back on itself like a center mast umbrella.

Belvedere's uniquely designed Easy Flap Mechanism is a handle lever that when pushed down extends the canopy over the area to be shaded then to close the handle is raised and the shade is quickly closed.

Want to move your canopy to cover another area? Belvedere can be equipped with stainless steel foot pedal to easily rotate shade to cover other areas. Belvedere moves smoothly around by depressing the foot pedal and engaging the rotation. Once in place, release the pedal and your shade is locked.

When open the canopy mast angles to the side making room for furniture and seating. When closed the poles stands upright saving space.

The canopy is made with a premium grade outdoor acrylic fabric that is waterproof, stain and UV resistant and so durably constructed it is intended for both residential and commercial applications.

The fabric will reflect over 90% of the suns UV rays and has a unique "Cleanguard" application that makes it completely water repellent and resistant to dirt and grease stains. It is also extremely resistant to color fading a will maintain its original bright color for many years.

The round market style canopy has a wind roof and is available in several fabric colors and with a white or charcoal frame finish. Other frame finish are available please inquire.

The wind roof provides the most protection in windy conditions.

Belvedere Base Choices.
Floor Base for Patio Pavers. The galvanized steel umbrella base is 40'' x 40'' and requires you to add 8, 16'' x 16'' x 2'' concrete pavers (not included). Select white or charcoal powder coated finish. Several finish colors are available. Please inquire. A set of 4 wheels is available to make the base mobile.

Aluminum Base Cover. Covers the patio paver base. A set of four wheels is available to make the base portable.

Flat Steel Mounting Plate. 28'' x 28'' painted flat steel base. Base must be attached to the surface for stability. 100lbs.

In-Ground Lawn Mount Base. 10'' long stainless steel base that goes into the ground and is cemented into position.

You will receive this item by truck delivery. The trucking company will call and schedule a time when someone will be present to accept the delivery. They will deliver the item curbside and you will be responsible for moving it into your home.
Product ID# 230025

11'6''
13'2''
Estimated Ship Time:
8 weeks
11'6'' with White Frame - $6,495.00
11'6'' with Charcoal Frame - $6,495.00
13'2'' with White Frame - $6,695.00
13'2'' with Charcoal Frame - $6,695.00
Floor Base/Pavers - White - $1,150.00
Floor Base/Pavers - Charcoal - $1,150.00
Aluminum Base Cover - White - $495.00
Aluminum Base Cover - Charcoal - $495.00
Flat Steel Mounting Plate - White - $1,595.00
Flat Steel Mounting Plate - Charcoal - $1,595.00
Set of Four Wheels - $170.00
×

Secure Site
Tested: December-04-2023